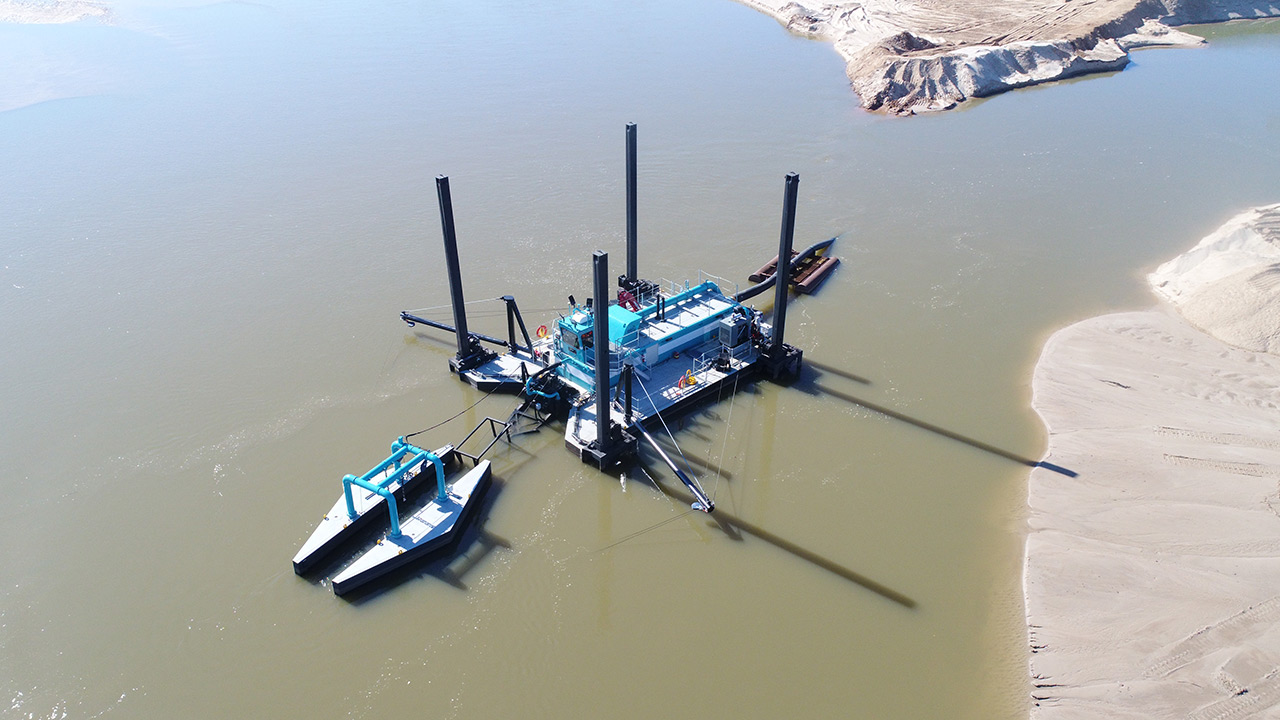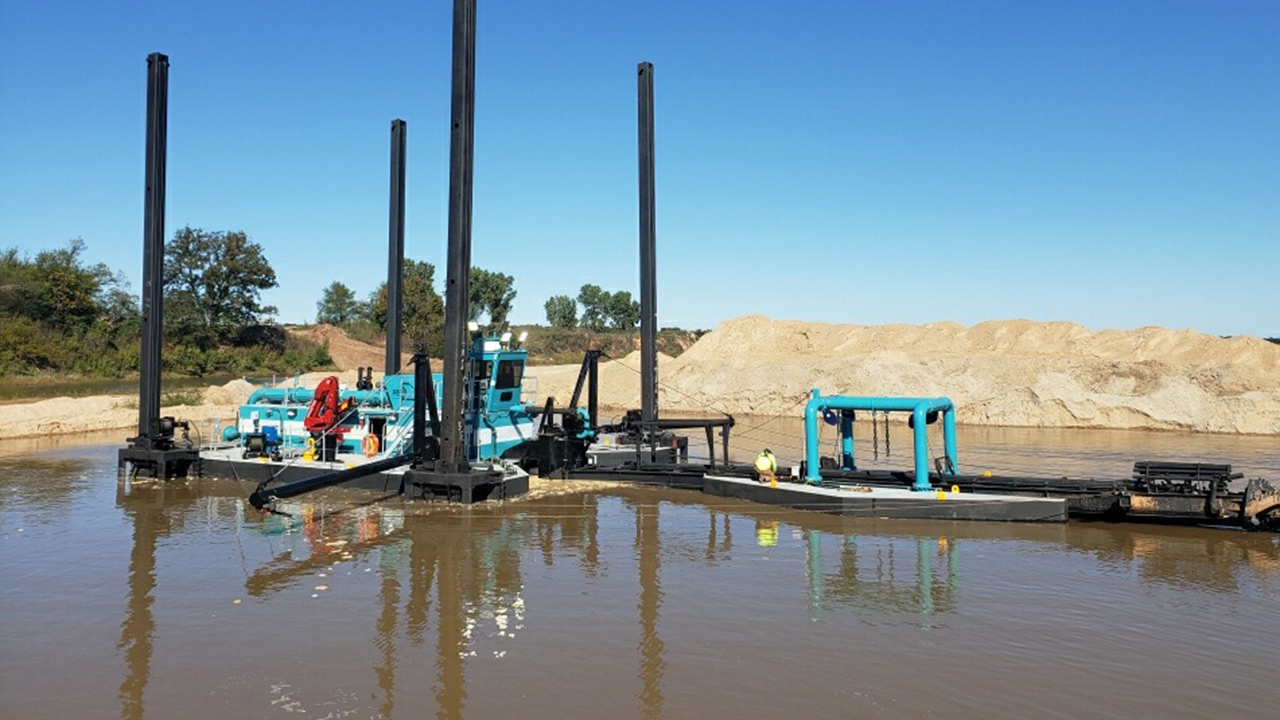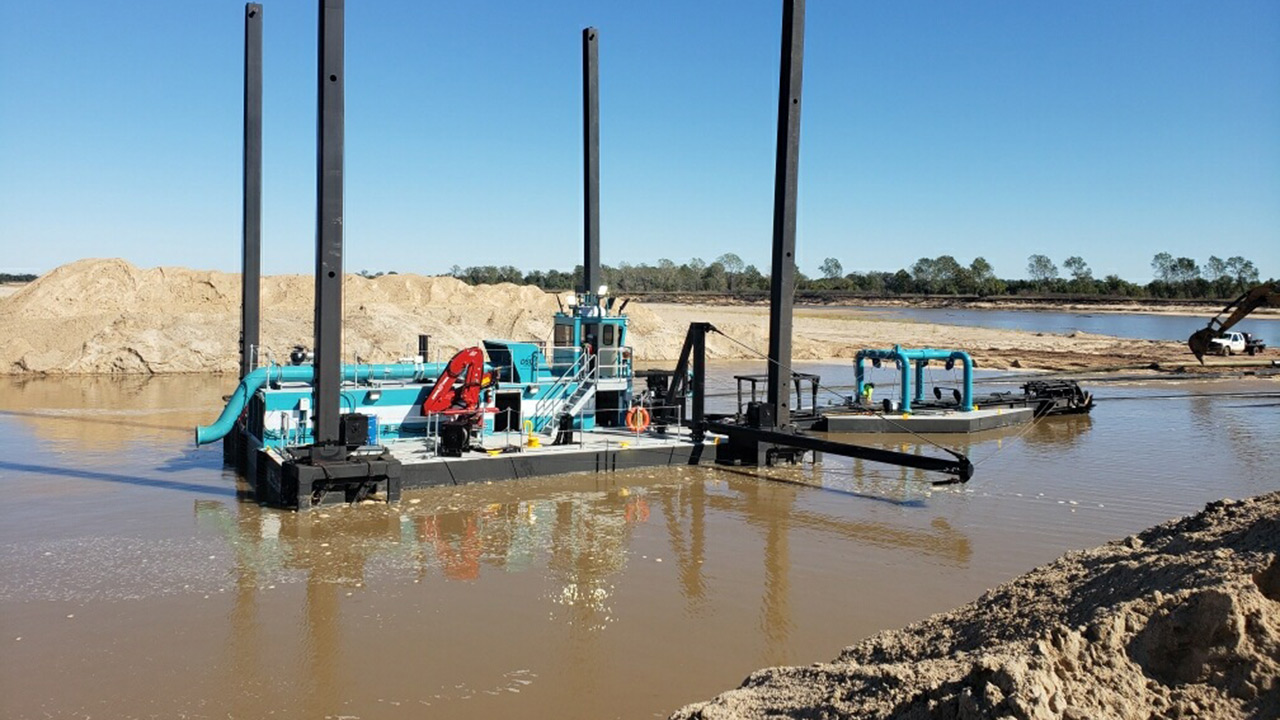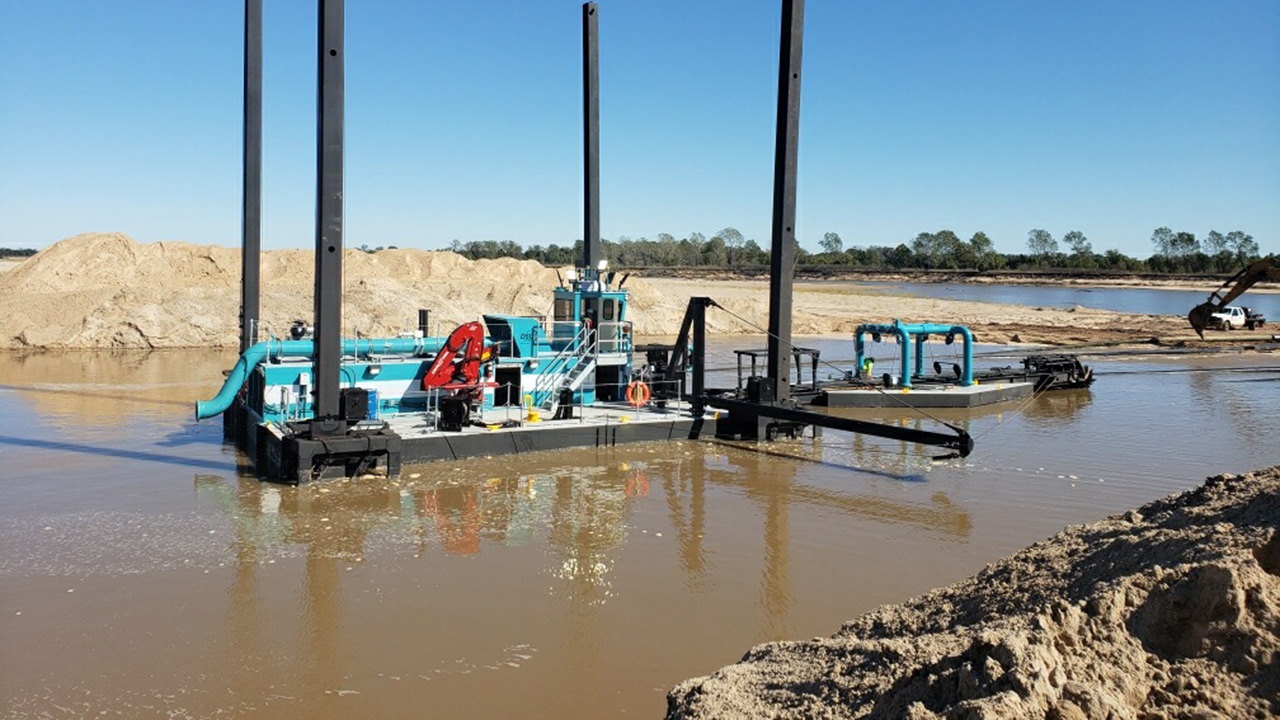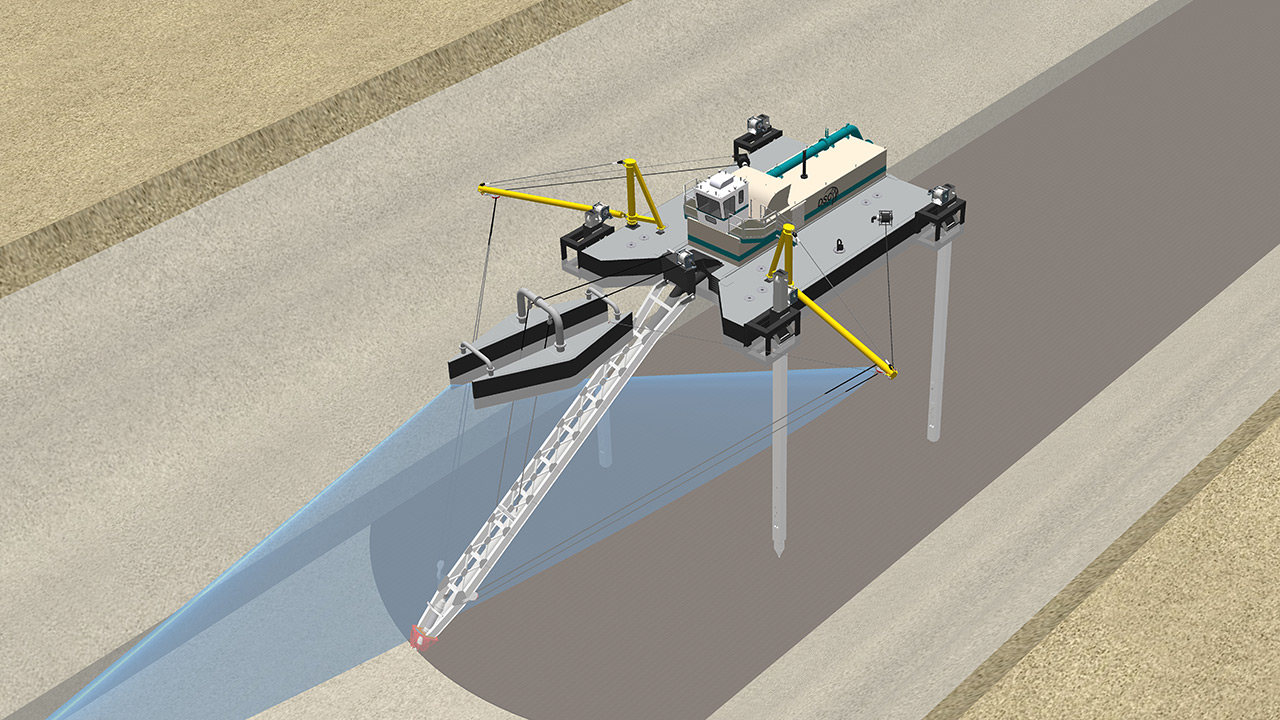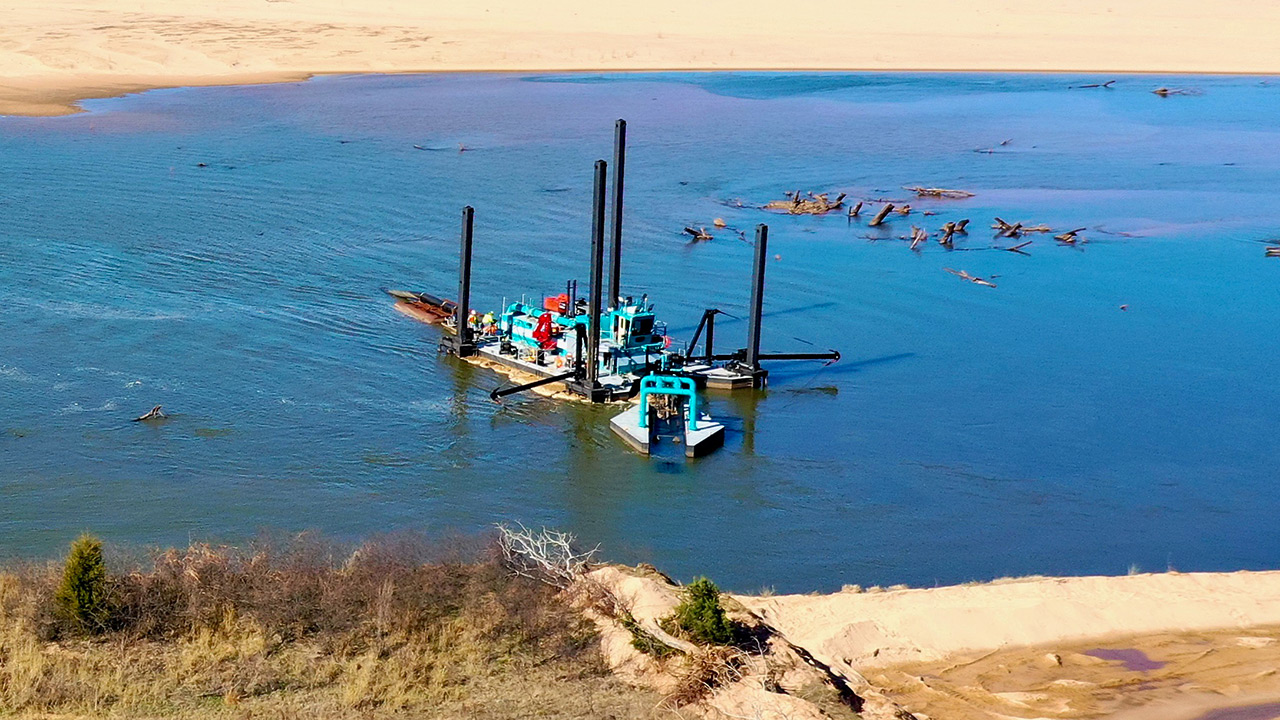 At DSC Dredge, we know designing and building the exact custom dredge that will boost your efficiency and lower your costs involves working with you and learning your story. The SHARKUDA® Class wide format swinging ladder dredge is designed to excel in areas otherwise difficult to access. Starting with our base model, we customize the SHARKUDA® for your specific application, learning all details of your project, and involving you every step of the way.
The SHARKUDA® Class dredge features a swinging ladder design specifically patented for wide deep swings. Available with diesel or electric power, the SHARKUDA® can reach dredging depths down to 43 feet (13.1 m). Standard discharge sizes range from 12 inches (300 mm) to 18 inches (450 mm). Ideal dredging applications include aggregate mining, lake management, river dredging, contract dredging, environmental clean-up, and coastal restoration. With a patented spud glider system, the SHARKUDA® operates more efficiently than any other conventional dredge on the market.
Power

Caterpillar diesel power or AC electric power.

Pump Technology

Hull-mounted heavy-duty dredge pump.

Operating System

PLC operating system.

Base Model

Power up/down spud systems with API-rated winch drums for proper cable storage.

Customization

Customizations may include custom dredging depths and widths and the DSC Vision technology, advanced GPS dredging systems and production instrumentation.

Custom Dredge Solutions

Custom features, sizes and designs available.
Dredging Depths

43 ft (13.1 m)

Power Source

500–1,200 hp (373–895 kW)

Discharge Sizes

12–18 in (300–450 mm)

Transportable

Multi trucks

Cutter Power

60–200 hp (45–149 kW)

Spud Lift Operation

Power up/down planetary winch

Swing Operation

Wide Swinging Ladder Design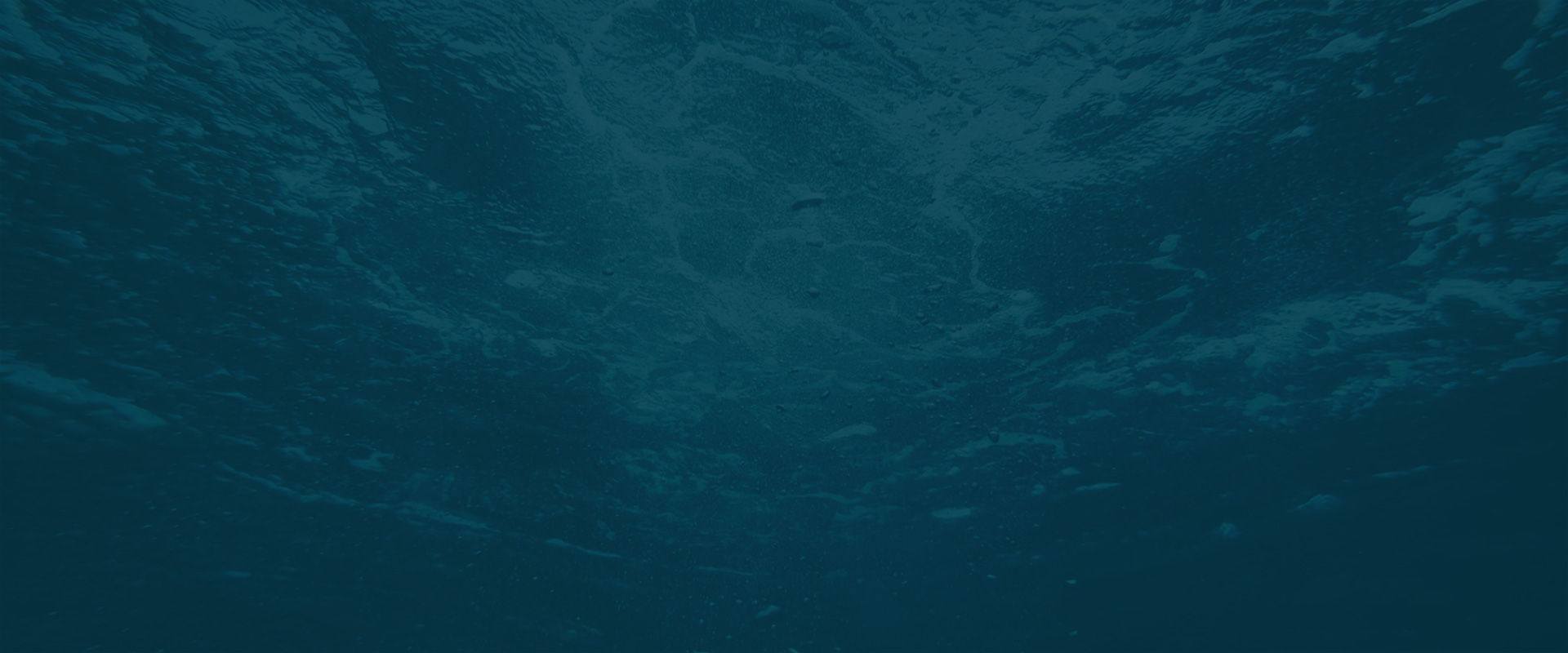 DSC Dredge

Quality Systems

Planned Downtime (Preventative Maintenance) Caused Losses

Unplanned Downtime (Corrective Maintenance) Caused Losses

Benefit Losses Caused By Ineffectiveness & Inefficiency

(Operations, maintenance, support, reduced output quality, reduced capacity, slow switch-over, start-up, calibration, etc.)

Life Cycle Profit Generated In Active Uptime
Reduce Losses
Extend Life
Reduce Costs